Oil-Rite is an ISO 9001:2008 Certified
Designer and Manufacturer of Lubrication Equipment Since 1933

Oil-Rite lubrication equipment is instrumental in maintaining machinery and monitoring fluid flow across a wide expanse of industries. Oil-Rite equipment applications include:
•    apply lubricant to chains and conveyors in high-speed canning facilities
•    automatically replace oil in large bearings in nuclear facilities
•    dispense grease during assembly processes
•    lubricate car crushing machines in recycling operations
•    monitor hydraulic fluid levels in off-road equipment
•    and circulate oil to turbine bearings in wastewater plants

Oil-Rite product is developed by an in-house design team and manufactured in the United States for use in North America and throughout the world.  The quality management system is ISO 9001:2008 certified.
-----------------------------

Featured Products
Lubrication equipment should be tailored to the particular application and take into consideration basic specifications including type of fluid, pressure, and temperature. Other factors may also be important to selecting the proper equipment: integration with existing machinery, minimized impact on the environment, cost-saving features, ease of installation, or sheer simplicity of design. The products on this page are examples of lubrication equipment that are meeting the challenges within industry today.
Liquid Level Gages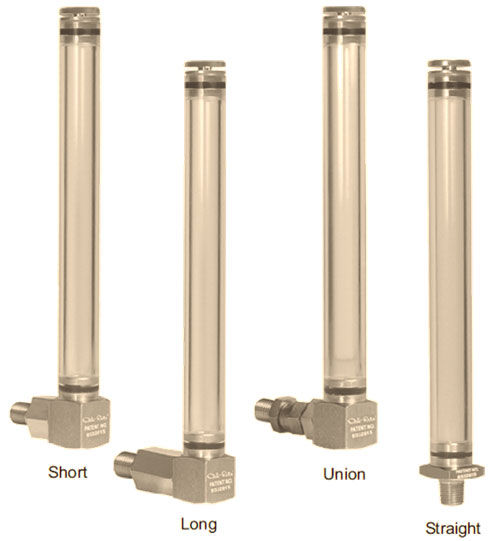 SHORT/LONG ELBOW GAGES are made for applications requiring horizontal inlets.

UNION COUPLING GAGES are made for applications requiring horizontal inlets and where clearance from obstructions do not permit rotating the gage for mounting.

STRAIGHT LEVEL GAGES are made for applications requiring vertical inlet and permit direct mounting for quick response of fluid level.

These gages are made of tough, transparent, Trogamid® nylon bodies. They allow visual observation of liquid level and liquid clarity from all sides and angles. The transparent sights are compatible with many chemicals, and they will retain their clarity through various temperature changes. The tough Trogamid® nylon can withstand a tremendous amount of duress, thus eliminating the hazards of glass breakage experienced on conventional designs.

The gages are used on tanks, reservoirs, hydraulic equipment, presses, large motor bearings, pillow blocks, and in other applications where it is necessary to guard against a low liquid level.
Vent Plugs and Filters

VENT PLUGS WITH FILTER can be used to relieve pressure or vacuum on bearing housings, gear boxes, reservoirs, or any application where venting is necessary. These vent plugs assure pressure equalization and minimize undesirable problems, such as bearing seal blowout due to excessive pressure.    The vent plugs allow air to freely communicate through a 40 micron filter. The filter is easy to clean — just unscrew the hex cap on top, remove filter element, clean, and reassemble.

VENT PLUGS WITH DEFLECTORS are simple, sturdy, and are of one-piece construction which makes the plug safe for use anywhere. High in quality and low in cost, these units are used on bearings, gear boxes, reservoirs, and similar applications, wherever the necessity of pressure or vacuum relief exists. They can also serve as filler plugs.   They are equipped with a splash deflector which prevents the liquid from spilling into the vent hole and outside. To allow air to communicate freely with the outside, no screens or filters are used which might make the units inoperative.

VENT PLUGS WITH CHECK VALVE is similar to the A-3432 series, however, it has a check valve which is designed to allow air to pass through it in one direction only. Pressure from the opposite direction immediately closes the valve eliminating fluid loss.  The vent plug allows air to freely communicate through a 40 micron filter. Easy to clean — just unscrew the hex cap on top, remove filter element, clean, and re-assemble.
---